A new and exciting destination which is suitable for a family trip. This wonderful day trip takes place in Garama Village – Garama River, Sabah; located about 130km from Kota Kinabalu. It's about 2 hour ride from Kota Kinabalu. The highlight of this tour is ~ of course, seeing the remarkable Proboscis Monkey in the wild! Seeing the bizarre monkey with their natural behaviour in the mangroves is truly a wonderful experience. How Proboscis Monkey looks like?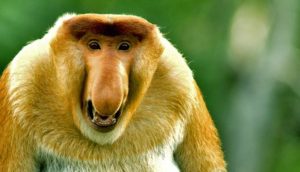 A little fact about the Proboscis Monkey:
Fact 1: Proboscis monkeys are found only on Borneo island in Southeast Asia. Found in the three countries that divide the island of Borneo: Brunei, Indonesia, and Malaysia.
Fact 2: The proboscis monkey inhabits mixed-mixed jungle forests, mangrove forests and lowland forests near freshwater and rivers.
Fact 3: Age up to 20 years in the wild and up to 30 years in captivity.
Fact 4: The proboscis monkey is a large species, becoming one of the largest monkey species originating from Asia.
Fact 5: Male monkeys are 66 to 76.2 cm (26 to 30 inches) tall and typically weigh 16 to 22.5 kg (35 to 50 lb), with a maximum weight of 30 kg (66 lb).
Fact 6: The female has a height of 53.3 to 62 cm (21 to 24.4 inches) and typically weighs 7 to 12 kg (15 to 26 lb), with a maximum mass known to be 15 kg (33 lb).
Fact 7: Adult proboscis monkey fur is bright orange, reddish brown, yellowish brown or red brick. The back is light gray, yellowish, or grayish to light orange; And the arms, legs, and tail are gray.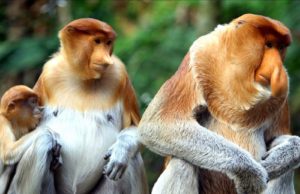 For those who are very interested in adventure and wildlife of Sabah, this is the best place for you to learn more on Sabah wildlife. The Proboscis Monkey in Garama Village Sabah is living wildly with their own life rules, unlike those you see in the protected sanctuary. Have a valuable time with the guide by learning how Proboscis Monkey actually live, You will be amazed to hear the stories. One of the popular one is in each area of the place for the Proboscis Monkey, there will be one leader male Proboscis Monkey with many wives (female Proboscis Monkey). Try guessing which one's female and male once you get there.
You will be seeing the monkeys a bit far, therefore those who come are advisable to bring their own binocular/ high definition camera. You may not want to skip the exciting moments when you see them. Let's watch their cute behaviour here:
Feeling excited to see them? Here's the itinerary:
Proboscis Monkey Tour Package (RM800/4 pax)
12.00 pm: Pick up at airport and transfer to your hotel for check in.
01.30 pm: Rest and transfer to restaurant for lunch.
02.00pm: Depart to the other site of Sabah, Kota Belud to visit Tamao River Cruise to see the proboscis monkey and fireflies river cruise. En route will drive passes fasinating countryside view, scenic secluded beaches, villages, and mangrove forest.
03.30pm: Arrived at Tamao River. Light refreshment will be served (local cakes).
04.00pm: Cruise on comfortable boat where you can see the rare proboscis monkey where you can meet in Sabah. If we are lucky we will get to see other wild animal likes crocodile and wild lizard.
06.00pm: Enjoy a sumptuous Malaysian dinner by the riverbank.
07.00pm: Cruise on boat to see the fireflies and stunt by the view.
08.30pm: Depart to hotel in Kota Kinabalu.
For more info and booking:
Want to meet them privately? Find the best Sabah car rental from here: