Sabah combines protected jungles with tropical islands spread in the South China, Sulu and Celebes Sea. Jungle retreats, hundreds of kilometers of coastline and some of the world's best diving spots feature in the East Malaysian state too. Throw in the chance to see wild orangutans, fireflies and carnivorous flowers. Sabah is the pearl of Borneo with countless ecotourism activities and beach retreats. Visitors encounter unmatched biodiversity along jungle trails and have the chance to scale Malaysia's tallest mountain. Crazy Tourist explores the 24 best things to do in Sabah for nature, beaches and islands.
Mount Kinabalu: Malaysia's granite beast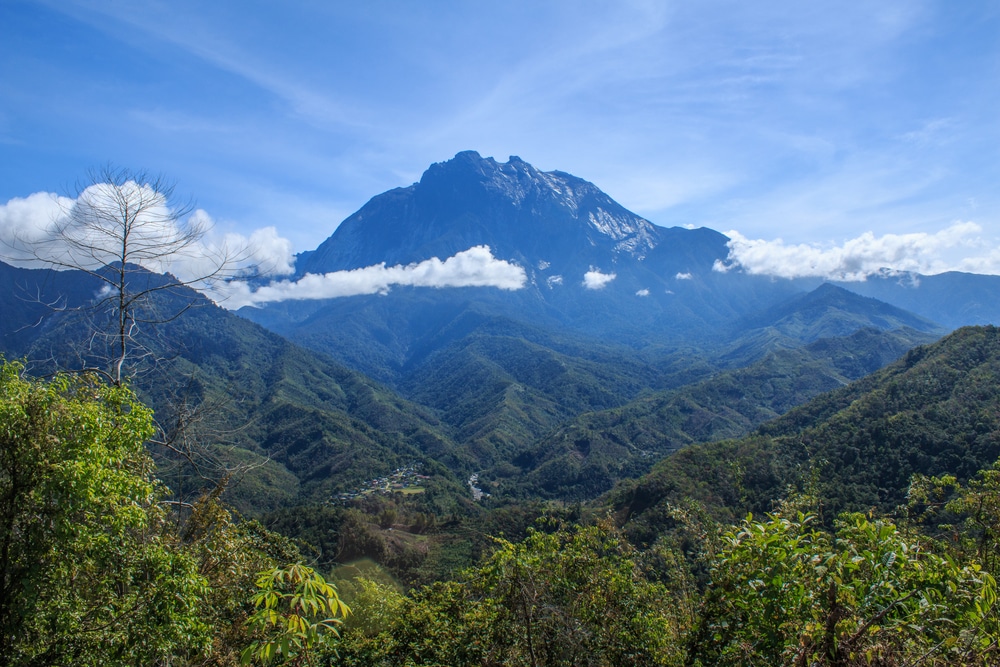 Sabah's Mount Kinabalu (Gunung Kinabalu in Bahasa) is Borneo's and Malaysia's tallest peak. Soaring to 4,095 meters (13,435 feet), it's the highest point between the Himalayas and Papua New Guinea. Travelers to Sabah immediately notice Kinabalu featuring on the state flag. It holds both deep ties to local Kazadan-Dusun indigenous people and ancient paganism. Climbing Mount Kinabalu is a two-day affair. Day one involves hiking 3,272 meters (10,735 feet) to a hostel in Laban Rata. The second day starts at 2:00am to reach the summit in time for the sunrise. Keep your eyes open for the changing landscapes, flowers and wildlife. Bring warm clothes for the higher altitudes. Mount Kinabalu only permits a limited number of climbers each day. Places sell out months in advance. Climbing Kinabalu in Sabah needs preparation to guarantee a spot.
2. Malaysia's first Heritage Site: Kinabalu Park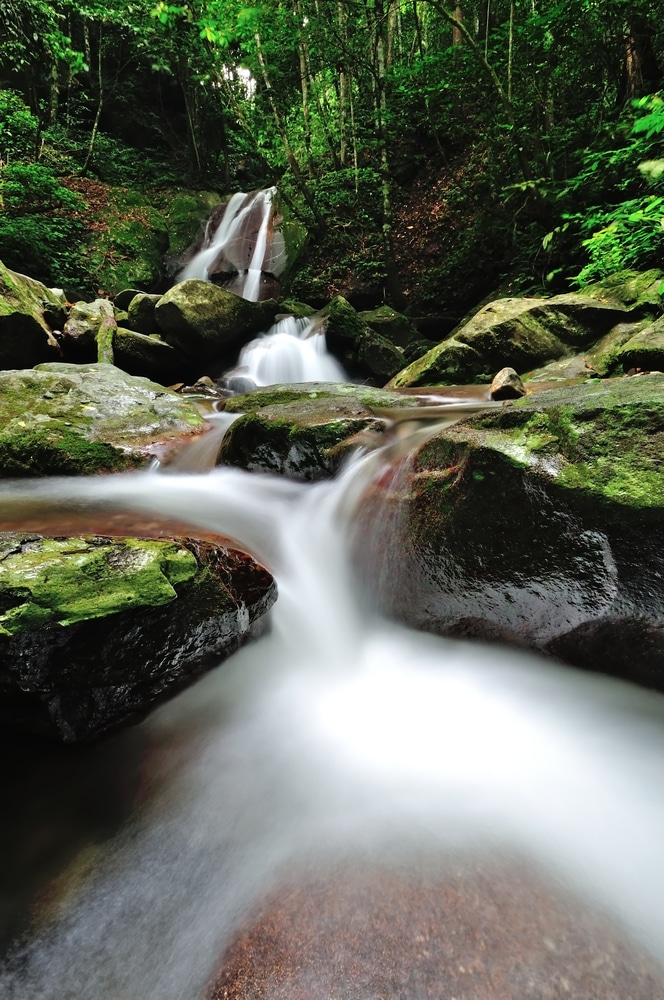 Kinabalu Park became Malaysia's first UNESCO World Heritage site in 2000. Covering an area of 754 square kilometers, the national park surrounds Mount Kinabalu in northwest Sabah. The tropical park is a biodiversity melting pot forming thousands of habitats.More than 5,000 plants grow inside its borders including the carnivorous pitcher plants and colorful orchids. Kinabalu Park also houses the Rothschild slipper orchid (Paphiopedilum rothschildianum). This stripy flower is among the world's rarest and most expensive orchids.Over 300 birds, 100 species of mammals and several species of monkeys call Kinabalu Park home. When combined, this makes the area one of the most important ecological zones on Earth.
3. The world famous Bornean sunset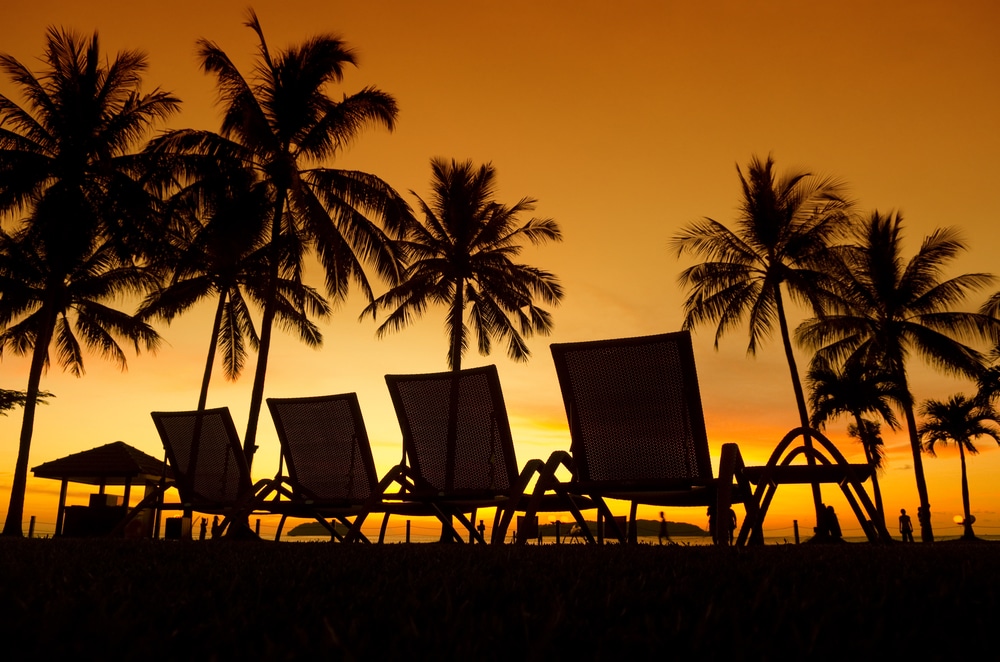 Borneo has a reputation for jungles, beaches and an almost guaranteed spectacular sunset. As the sun dips, the horizon lights up with a blend of reds, oranges and purples. Watching on the beach is even more mesmerizing. Kota Kinabalu's Tanjung Aru is a short drive from the city center near the airport. The copper-orange sanded beach stretches against a border of bendy palm trees. Islands dominate the horizon. Local families and tourists head down around 5.40pm to 6:00pm.
4. Kota Kinabalu: Floating Mosque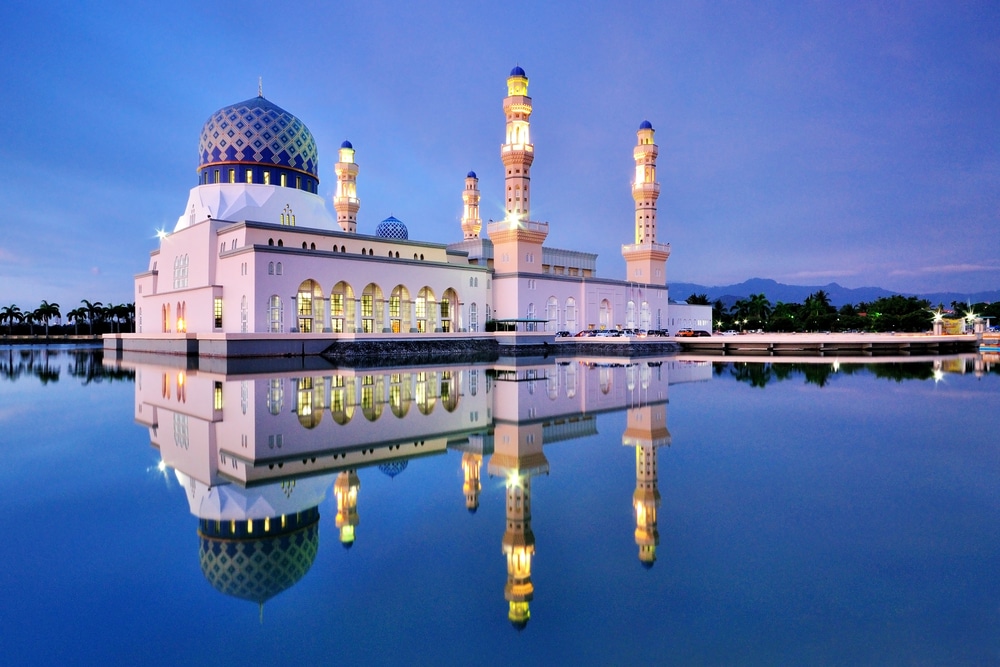 Travelers can visit the almost mirage-like Floating Mosque and stroll along the 5 kilometers (3.1 miles) Likas Bay. Or head to Signal Hill Observatory Platform for stunning views over KK. Most visitors spend their time around Gaya Street, the city's main stretch. Dozens of restaurants and a handful of bars fill the bustling street after dark.
5. Beaches, snorkeling and hiking on Kota Kinabalu's islands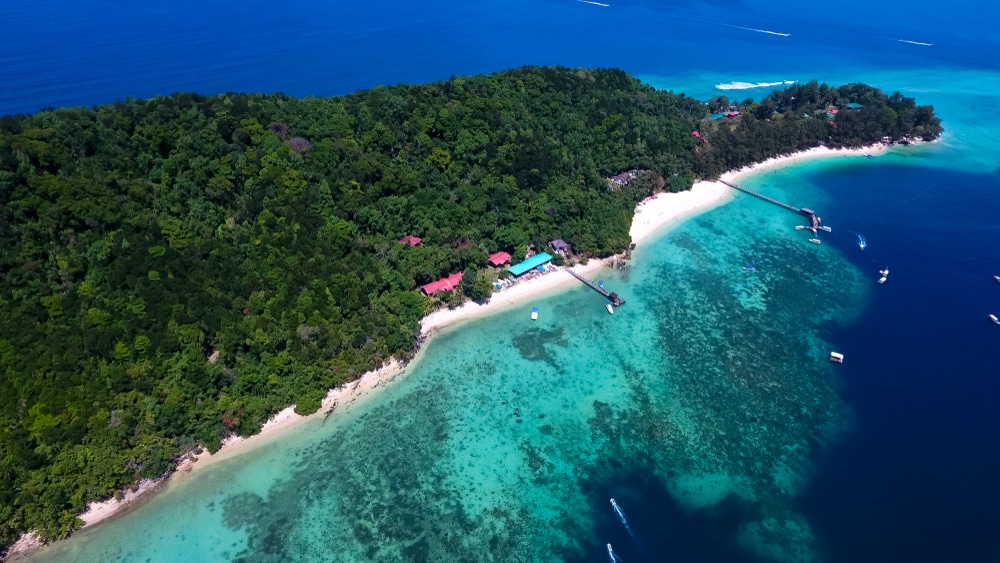 Visiting Kota Kinabalu and skipping Tunku Abdul Rahman Marine Park is like missing the Petronas Towers in Kuala Lumpur. Five islands (Gaya, Manukan, Mamutik, Sapi and Sulug) form the chain off the coast of Kota Kinabalu. If you want beaches and snorkeling, head to the most popular Manukan Island. For light jungle trekking and to explore a floating village, visit Gaya. The other three are more secluded with fewer tourists. Regular speedboats connect Kota Kinabalu's Jesselton Point with the marine park. Island-hopping trips are available too.
6. Zipline from one island to another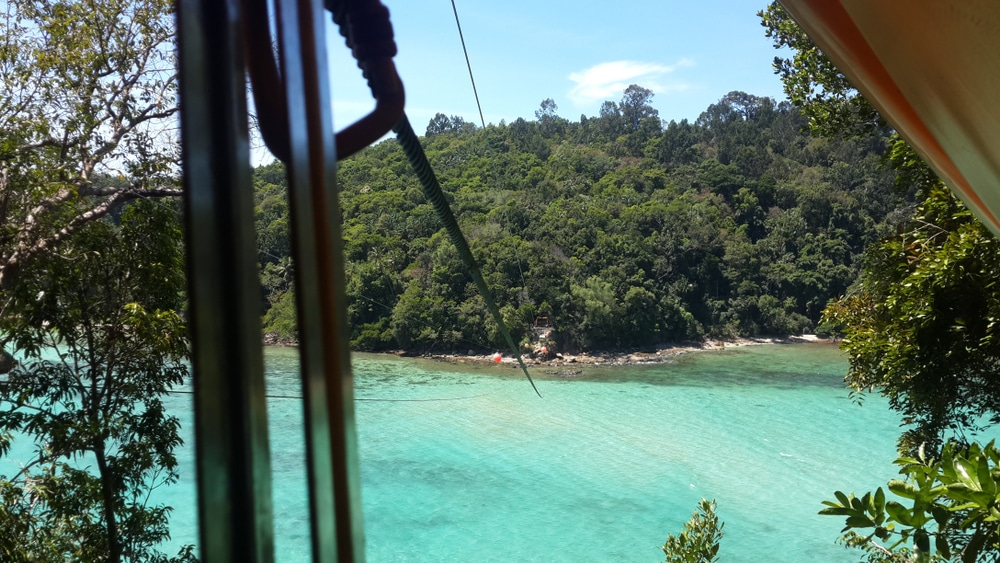 Ziplining has established itself as a favorite not-too-intense thrill-seeking activity. Coral Flyer Zipline provides an experience found only in Sabah. The zipline stretches 250 meters (820 feet) from Gaya Island to Sapi in Tunku Abdul Rahman Marine Park. Strap yourself in and soar from one island to the next over the gentle azure South China Sea. Apart from a shot of adrenaline, expect stunning views of the tiny archipelago and Sabah's shoreline. Remember to charge the Go Pro to capture Borneo's longest zipline on film.
7. Sabah's original Survivor Island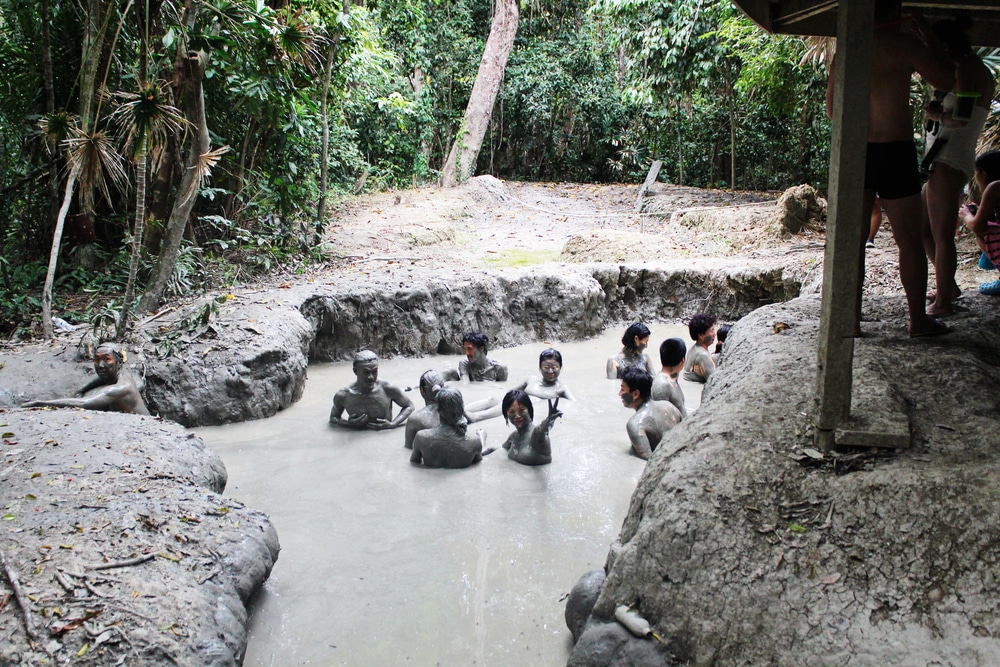 TV series Survivor has become a household name covering 37 seasons since it first aired in 2000. Season One took place on Sabah's Pulau Tiga. The island near Kota Kinabalu is just close enough to the mainland for easy access and far enough to feel like a desert island. Since featuring on Survivor, Pulau Tiga (translating to 'Three Islands') allures the adventurous. Join a day tour and visit its mysterious mud volcanoes and sunbath on forgotten beaches. Splash out for a night in either the ultra-luxurious Pulau Tiga Resort or Gaya Island Resort for a private beach getaway.
8. The only place in Sabah where you'll need a sweater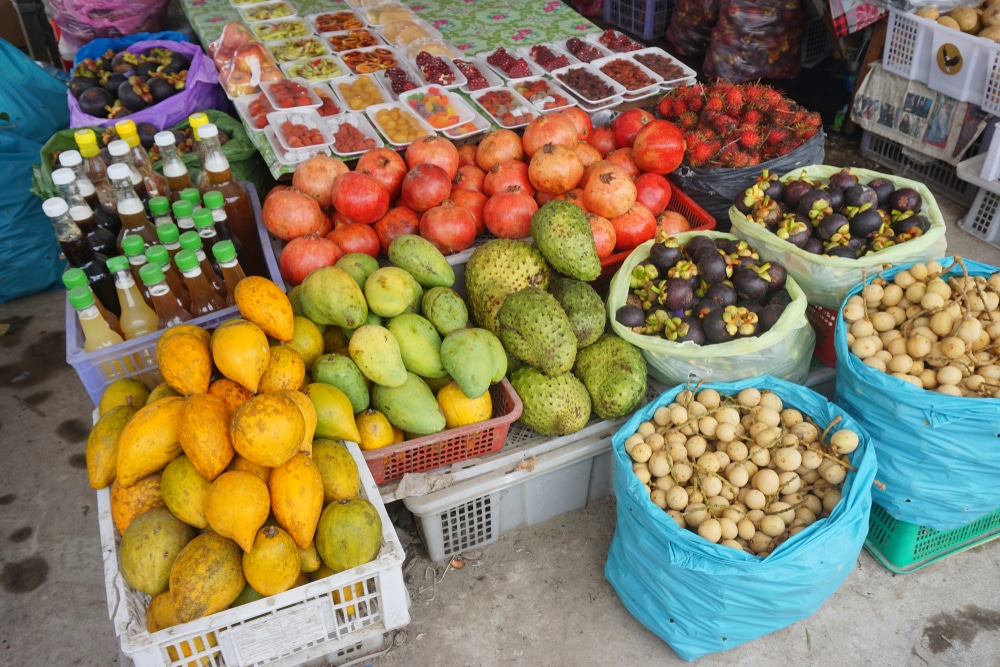 Kundasang holds the title as Sabah's coldest town. With an altitude of almost 2,000 meters (6,562 feet), temperatures regularly dip below 20°C. Sabahans living the stifling lowlands make the two hour journey from Kota Kinabalu for a mini retreat. A few resorts cater to their needs. Travelers often stop by for convenient access to Kinabalu Park which is just 6 kilometers (3.7 miles) from the town. Other highlights include fresh produce markets, views of Kinabalu and easy access to hiking trails
9. Soak in Ranau's natural spa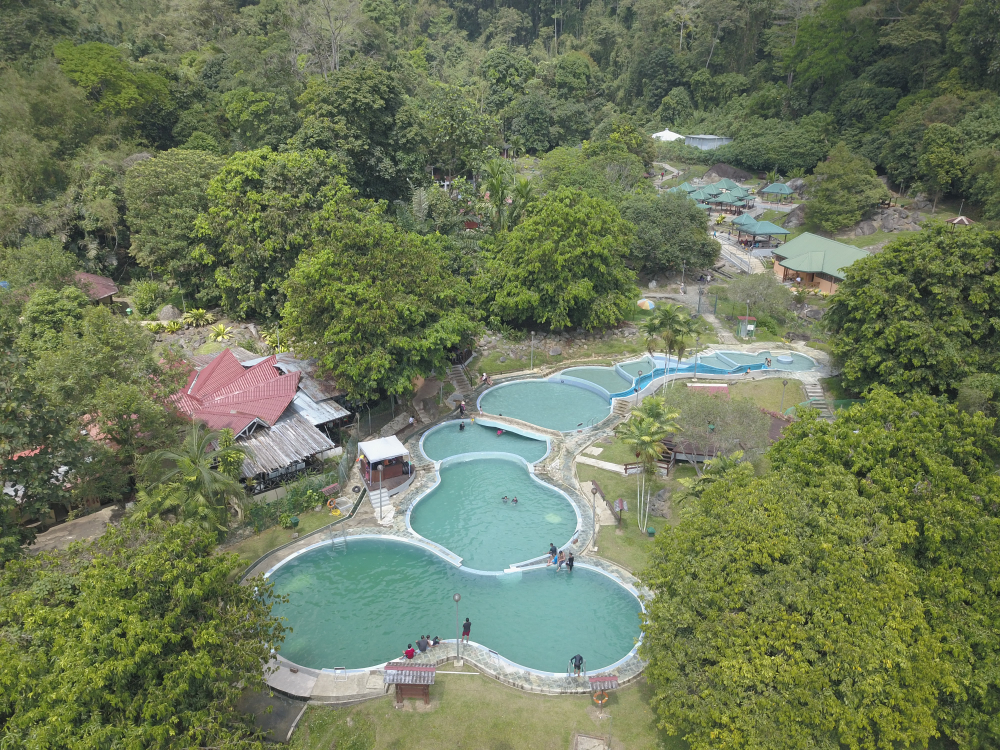 Poring Hot Springs consist of a series of natural sulfuric pools near Ranau.Hikers often stop by for a recuperating soak after climbing Mount Kinabalu. Others spend their time inside the spa-like complex.But it's not just about relaxation. The family-friendly Butterfly Park is a highlight. Or hike to see the world's largest (and smelliest) flower: Rafflesia. Poring Hot Springs takes approximately 45 minutes by car to reach from Mount Kinabalu. The journey back to Kota Kinabalu is about two and a half hours.
10. The northernmost point of the world's third largest island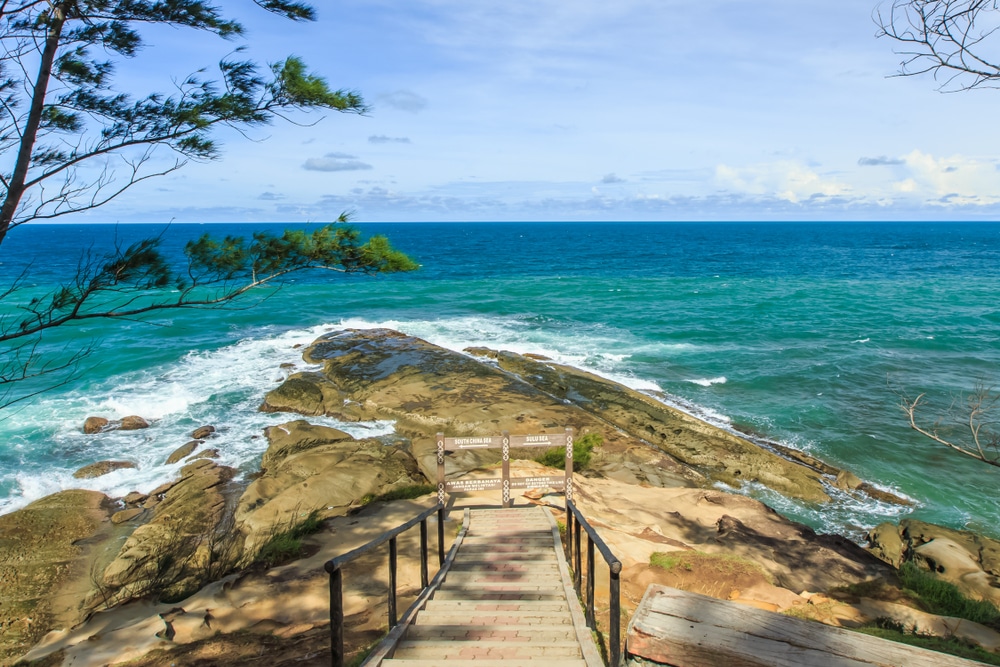 Borneo is the world's third largest island. Visiting the northernmost point is a favorite day trip from Kota Kinabalu. The 'Tip of Borneo' sits approximately 180 kilometers (112 miles) northeast of the capital in Kudat Town. Expect a three-hour drive through lush scenery, deserted shorelines and winding mountain roads. In Kudat, a path leads to the northernmost point of Borneo. This is the spot where the South China Sea and the Sulu Sea meet. Rocky outcrops form dramatic structures in the rough waters. Empty beaches are a short walk from Kudat Town.
11. Proboscis monkeys and fireflies
Kota Belud, a small town 70 kilometers (43 miles) from Kota Kinabalu, provides a glimpse into rural Sabah. Colorful bungalows sit next to two-storied traditional wooden houses. The river meanders through the villages and hosts two other remarkable attractions. Boats cruise along the river to find the rare proboscis monkeys. Others take passengers to watch the dancing fireflies after dark. While seeing the primates isn't a guarantee, holding a bright firefly in your hands almost certainly is.
12. Whitewater rafting in the jungle
Sabah's rugged landscapes burst with fast-flowing rivers and almost secret rapids. This gives rise to adventure activities in the rainforest including white water rafting. Thrill-seeking travelers can attempt the rapids through the dense jungle landscapes. Monkeys perch in the tree branches watching the rafters with curiosity. Sambar deer occasionally peak out of the foliage while hornbills soar above. Tamparuli's Kiulu River, less than an hour from Kota Kinabalu, has a 15-kilometre (9.3-mile) set of class I and II rapids. Beaufort's Padas River caters towards the more experienced.
13. Proboscis monkeys and crocodiles on the Kinabatangan River
River cruises along the 560 kilometer (348 miles) Kinabatangan River in East Sabah provide the chance to see Proboscis monkeys. The unusual pot-bellied primates lurk with both their arms and legs spread in the mangrove branches. Certain parts of the Kinabatangan house Sabah's largest population of these rare endemic species. Most travelers spend the night in the river side bungalows and chalets. Join a river cruise in the afternoon for monkeys. Head out again after dark for crocodiles and the occasional pygmy elephant.
14. Meet orphaned orangutans at Sepilok Rehabilitation Center
Borneo Island, along with Indonesian Sumatera, are the world's only habitats for wild orangutans. Sadly, deforestation and hunting threaten our orange-haired cousins. Sepilok near Sandakan opened in 1964 becoming the world's first orangutan rehabilitation center. The semi-wild enclosure adopts and nurtures the young and orphaned in a protected environment. A boardwalk leads to a viewing platform. Feeding time at both 10:00am and 3:00pm entice the 75 resident orangutans out into the open. Sepilok provides an almost guaranteed chance to see orangutans in their natural habitat.
15. Sabah's first colonial capital
Sandakan in East Sabah became the capital of British North Borneo in 1879.In 1946 after suffering destruction during WW2, the capital moved to present day Kota Kinabalu. Because of the devastation, Sandakan lost most of its colonial architecture. But the little-visited city acts as a convenient point to visit Sepilok, Gomantong Cave and Selingan Turtle Island. Sandakan itself has colorful Chinese temples, colonial-like churches and an English Tea House. The stilted Buli Sim Sim Water Village on the outskirts of the city is a favorite side trip.
16. Danum Valley: Sabah's most biodiverse jungle
Borneo's globally acclaimed reputation for biodiversity can be attributed to Danum Valley in East Sabah. Danum Valley Field Center is both a world-class conservation facility and ecotourism haven. Located two hours into the 130-million-year-old rainforest from the nearest town Lahad Datu, the protected area has remained free of human settlements. This means the jungle is still the same today as it was millions of years ago. Visitors can follow jungle trails with expert guides, climb up to canopy walks and join night safaris. Orangutans live near the Field Centre. Pygmy elephants sometimes roam nearby. Those looking to splurge can stay in the eco-friendly bungalows. Prince William and Kate Middleton stayed in these when they visited Danum Valley in 2012. Hostel beds and camping facilities cater towards the more budget conscious.
17. Explore where few people have explored at Maliau Basin
Maliau Basin in the heart of Sabah is among the least explored parts of the planet. Most of the region remains unmapped. The Maliau River flows through a basin, which rises 1,675 meters (5,495 feet). The geography and lack of human activity create an almost self-contained ecosystem. Getting here takes time and patience. Those who do usually combine Maliau Basin with a trip to Danum Valley. Hike to the summit, search for wildlife and swim in natural pools. Only a handful of privileged souls have walked along the same trails before.
18. Sea Nomad villages at Semporna
East Sabah's Semporna acts as a gateway to Tun Sakaran Marine Park and Sipadan Island. Few international travelers make it this far unless they're heading to the islands. But Semporna provides a window into one of Southeast Asia's most mysterious indigenous peoples: The Bajau. Seafaring Bajau live on the water earning the nickname 'Sea Nomads' or 'Sea Gypsies'. With an uncanny ability to dive without equipment to the seabed, they're an enigmatic part of Sabah. Bajau floating villages, rickety wooden houses forming a neighborhood, line Semporna's coast. Take a water taxi and explore the mini-town above the water complete with shops, mosques and schools.
19. Sabah's best diving on Sipidan Island
Sipadan Island upholds an international reputation with acclaimed divers. The island near Semporna in East Sabah consistently gets voted among the world's best diving spots. Tours ferry scuba fans to dozens of sites which houses countless species of marine life. After a day in the sea, return to Sipadan's tropical paradise. White beaches line the sandy atoll's shores as jungle dominates its interior. Because of Sipadan's protected status, the marine park issues only 120 diving permits each day. Plan your trip and secure a placement at least three months in advance.
20. The most beautiful spot in Sabah
Bohey Dulang on Bodhgaya Island in East Sabah's Celebes Sea has a stunning sapphire-blue lagoon. According to visitors, the small mountainous island is the Sabah's most beautiful spot. White-beaches line the coastlines with a thick jungle spreading over the center. Hike to its peak at 353 meters (1,158 feet) for the best views of the lagoon. Bodgaya belongs to the Tun Sakaran Marine Park approximately 23 kilometers (14.3 miles) from Semporna Island.
21. A luxurious retreat on Lankayan Island
Lankayan Island offers a taste of Maldivian-style luxury in East Sabah. The Lankayan Island Dive Resort is the island's only resort inside the protected marine park. Over water bungalows line the empty beaches offering guests a private section of sand and sea.Visitors can relax on the beach, snorkel outside their bungalow or take diving trips to deeper waters. Travel between June and September and witness turtles laying their eggs in the sand. Shortly afterwards, the babies escape the shells and scuttle across the sand towards the sea. Lankayan Island is approximately 90 minutes from Sandakan by speedboat.
22. World class diving on Mantanani
Mantanani Island in West Sabah has more than 20 relatively unexplored diving sites. PADI-Certified travelers can join a tour which visits four or five sites as part of a day trip. Some burst with hundreds of colorful fish above the corals. Others lead to shipwrecks. Apart from the underwater world, dugongs (sea cows) often swim in the warm tropical waters. Either visit Mantanani Islands on a day trip from Kota Kinabalu. Or arrange a diving trip from one of the tour companies in the city.
23. Hiking in the jungle
Sabah's biggest appeal is its easy access to the rainforest. Visitors won't face the same lengthy expeditions into the jungle as they would in the Amazon. Instead, it's often possible to have a taste of the landscapes on a day trip. Several hiking trails penetrate the forests near Kota Kinabalu. Longer ones lead around the jungle in Kinabalu Park. Either join a tour from Kota Kinabalu. Or search online and hike with an informal group of locals.
24. Search for carnivorous plants
Sabah houses two unusual species of plants which resemble something out of a sci-fi movie. Both Rafflesia and Pitcher Plants use sophisticated biology to entice insects towards them. When the bugs step inside, the flowers start to digest and absorb their flesh. The carnivorous flowers are endemic to Borneo and Sabah. Rafflesia, often called the Rotting Flesh Flower, is both the world's largest and smelliest. The red giant releases a disgusting odor to mimic the smell of decomposing meat to attract insects. Pitcher plants hang like an upside down bell and allure their victims with a sweet scent. Both are spectacular sights. Travelers can visit these weird lifeforms with the help of a guide.